Project Logo Author is a High School Student from Považská Bystrica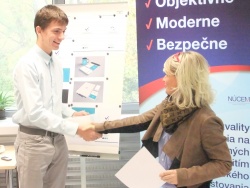 22.10.2013
The national contest for secondary school students to create an original logo of the national project has its winner. Most votes from the jurors were given to three logo versions made by Daniel Jahôdka, a secondary grammar school student from the town of Považská Bystrica. The first version shows testing with incorporated pictogram representing "ticking" the correct answer, the second version shows an abstract silhouette of a human connected to the pictogram and the third one depicts two joint silhouettes of a human.
The winner was officially awarded the first prize (an iPad) by the director of NÚCEM Romana Kanovská on 22nd October 2013. On behalf of the jury, a commemorative letter was handed over to Daniel Jahôdka by its chairperson Simona Bubánová, an academic painter and a representative of CD Creative Department Ltd. Other members of the jury were: Julo Nagy (designer, Calder design community), Emil Drličiak (designer), Petra Lipnická (Executive Director of Neulogy, Ltd.) and the E-test project's PR manager, Mária Grebeňová-Laczová.
"In this contest for high school students, I have chosen the logotype of Daniel Jahôdka as the winning one, because his solution is the most professional work of all. It is a standard logo, on a quality level comparable to logos of any other institutions," said one of the jury members, designer Julo Nagy. Other jury members Emil Drličiak and Petra Lipnická also share this opinion, and Lipnická explained that what she liked on the design was its artistic and intellectual fineness and simplicity.
To sum up, the contest conditions were fulfilled by authors of 60 proposals for the project logo. Not only students of secondary schools of arts or grammar schools, but also secondary vocational schools- or secondary business schools students participated in the contest.