E-Test Took Part in POHODA, the Largest Music Festival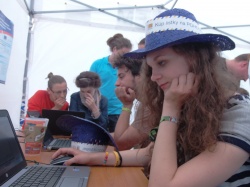 10.07.2014
Special tests for teachers and scientific literacy tests about chocolate for all interested, the tasks about discounts on goods, valuation of personal finance at the bank in the inflation period or about selection of the most beneficial part-time job for students, a secondary school-leaving test from the Slovak language and literature, a reading literacy test on the history of festival Pohoda, a knowledge test about the band Kraftwerk, mathematical and statistical literacy - all these tests were available for the visitors of the 18th volume of annual multi-genre music festival Bažant Pohoda 2014 in July this year as part of our interactive presentation of the national project, known as E-test.
"Our target group was the general public which had the opportunity to see what tasks and tests are created by our teachers in the regions for lower secondary education pupils at basic schools and for secondary school students. There was a great interest in testing in our stand from dusk till dawn during the whole festival," the PR manager of the national project, Mrs. Mária Grebeňová-Laczová said, adding that the visitors of the stand appreciated the modernisation of education by development of new tasks in the electronic environment.
From 10th July until 12th July 2014, a six-member team of NÚCEM equipped with five laptops attracted the Pohoda festival visitors of all ages. The teachers and students of our partner schools came to see us as well. Also, the editor-in-chief of the monthly magazine "Good School" Mr. Vladimír Burjan, speaker of Slovak Radio, musician and author of children books Mr. Štefan Chrappa and marketing manager of Slovan Bratislava Hockey Club Mr. Milan Vajda paid a visit at our stand, and one of the famous persons who successfully passed the electronic exam was Mr. Ľuboš Kasala, manager of Slovak National Radio and Television's Traffic Service.
For this autumn we are planning to organise further interactive meetings in various cities in Slovakia in order to inform the public on the national project "Increasing the quality of primary and secondary education with the use of electronic testing" and its benefit to the schools.