E-Test System Introduced to Journalists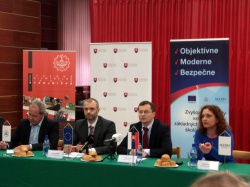 14.11.2014
Modern electronic testing system for Slovak schools known as E-Test was presented in detail to the journalists by Director of the National Institute for Certified Educational Measurements (NÚCEM), Mrs. Romana Kanovská and CEO of IBM Slovensko Ltd., Mr. Martin Murgáč.
The press briefing took place in the premises of Secondary Technical School of Mechanical Engineering in Bratislava, one of NÚCEM's certification schools, on Friday, 14 November 2014. The electronic system is one of the results of the national project "Increasing the quality of primary and secondary education with the use of electronic testing".
The press conference was also attended by the State Secretary of the Ministry of Education, Science, Research and Sport of the Slovak Republic, Mr. Juraj Draxler, who publicly appreciated the expertise and commitment of employees of NÚCEM in the project's implementation. Draxler said that both the implementation of standardised tests that objectively evaluate knowledge of each pupil as well as the possibility for schools to compare their results with other schools serve as important tools for school headmasters in self-assessment and improvement of the educational environment at school.
At present, the E-Test is beginning to be used by the of test tasks' authors and gradually by 1,660 schools involved in the project.