High School Graduation E-Tests at Autumn Fair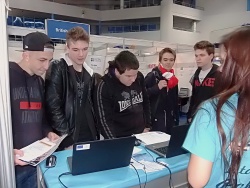 07.10.2014
The NÚCEM prepared three days of interesting programme for future secondary school graduates and teachers as part of the largest student fair "AKADÉMIA & VAPAC", which was held from Tuesday 7th October to Thursday 9th October 2014 at the National Tennis Centre in Bratislava.
At NÚCEM's promotion stand, all future graduates could try out computer-based samples of secondary school leaving examination tests of Slovak language and literature, mathematics and English language thanks to the national project "Increasing the quality of primary and secondary education with the use of electronic testing" (E-test). Also, the tests of other subjects, such as physics, chemistry, geography, history, science, civics, biology as well as from the reading, mathematical, statistical, financial and scientific literacy were prepared for graduates.
Interested teachers and students could also obtain information on the so-called "Maturita Online" - an electronic form of external part of secondary school leaving examination, which is taking place in the school year 2014/2015 at more than 300 schools within the E-test project.
The teachers also had a chance to try out the e-tests and could assess the difficulty of the tasks created by hundreds of their colleagues from all over Slovakia as part of the national project.